High Tensile steel strapping

is for heavy duty applications where higher break strengths and higher strap elongation are required in order to maintain packaging integrity during shipping and handling. Fox River Packaging's High Tensile products are medium carbon and fully heat treated. All product is painted and waxed (including edges), waxed for high lubricity, and is

AAR Printed

or Stamped for all applicable

AAR sizes

.AAR refers to Association of American Railroads and its high standards of certification for steel strapping.


Oscillated Winding (OSC)
The steel strapping is wound in a tight uniform pattern to a face width of 2-5/8" (67mm). Coils are typically 90 lbs (40kg) to 110 lbs (50kg); however, normally average 100 lbs (45kg).

Ribbon Wound (RW)
The steel strapping is wound onto itself so that the face width of the coil is the same as the strap. Ribbon Wound is available in 3/4" (19mm), 1 1/4" (32mm), and 2" (51mm). Coils can be 65 lbs (30 kg) to 120 lbs (54kg); however, normally average 100 lbs (45kg).
Call for current pricing.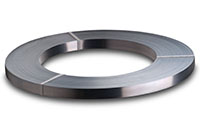 101114035HT
1 1/4" X 035 HT AAR Steel Strap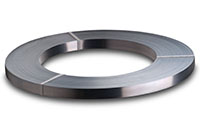 101114044HT
1 1/4" X 044 HT AAR Steel Strap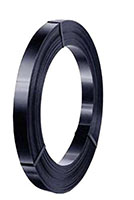 101200044HT
2" X 044 HT AAR Steel Strap